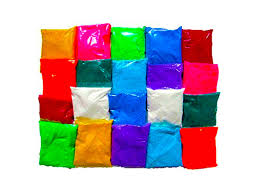 Holi Colors 100g
Sale price Price $17.00 Regular price Unit price / per
It is a gluten-free natural product
Made from 99% corn flour and 1% food dye.
It is completely safe for you as well as for the environment. If you have respiratory problems or suffer from other product allergies, we recommend you avoid using it. It should not be used in closed or poorly ventilated rooms.
Usually these colours can be easily removed from clothing. However, there is a higher risk for some fabrics. We recommend that you do not wear your favourite clothes and wash everything quickly immediately after the event.
This Holi powder contains no irritation or harmful substances. For very sensitive eyes or contact lens wearers, it is recommended to use sun or diving goggles. In case of eye contact, please rinse immediately.
As the ingredients are made from food substances, there is no risk of accidental consumption however be mindful that it is not to eat.
The Holi powder can be removed by simply washing off the skin. Nevertheless, we recommend you use moisturiser before and after the event to make it easier to wash off.
Normally, the colours can be easily removed from the hair. In rare cases, however, the dye used in the powder can adhere to bleached, treated or pre-damaged hair. We recommend that you do not wet the hair before the event and protect your hair with conditioner. Alternatively, you can also wear a hat or a funny wig.
Excess powder can be cleaned with pressure water after sweeping. Because it is biodegradable, there is no need to worry.